3.6 million people experienced EBM Skincare Studios (SPA)
EBM Skincare Studios cater to broad cross-section of Japanese women where they enjoy sophisticated treatment employing original skincare products and comfortable and healing modern environments.
In a convention that competes the level of customer satisfaction from 100 companies of the beauty salons in Japan, EBM Skincare studio ranked first place in 2012. Moreover, in 2013, we ranked first place for best technical skills, and for immediate effect of treatment. In our skincare studios, we use high quality cosmetics, and conduct treatments on each customer's needs and wants. Also, not only do we regard the effective cosmetics as important, but we also value "TEATE" ( té / ə / té ) in which we do not rely on machines and treat the skin using our hands. The skin is controlled by the autonomic nerve, and the hormonal system.
"TEATE" adjusts the autonomic nerve that tends to go out of order due to stress. It also relieves tension, and relaxes the mind. It is often said, "Skin is the mirror to internal organs". Therefore, skin troubles are often caused by stress or fatigue of the body. "TEATE" not only brings out the full potential of products, but also heals the customer's mind. Skincare Studios are a innovative system of cosmetic sales.
Types of Skincare Studios
e.b.c.c.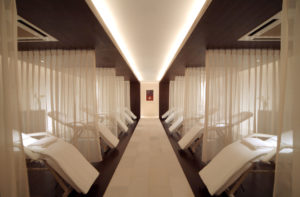 Your own personal oasis to comfort each of your five senses. This cutting-edge treatment bolsters your body's inherent healing power, working directly on the five senses: touch, sight, sound, smell and taste. The atmosphere and the pleasing feel of professional hands offer comfort, as we help you achieve health and beauty by employing a medical based approach.
MANDI-BALI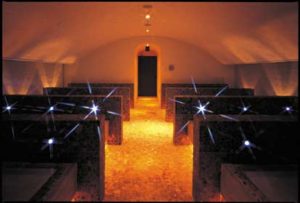 Truly a work of art, this design allows customers to experience the nature of Bali, while alleviating physical and emotional fatigue. With its hot water and stone spa, original fine particle water, representing tremendous appeal in this age of increased health awareness.
VS28 Skincare Studio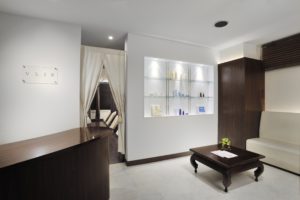 Offers a salon layout with a minimal investment. With its rapid return on investment, this design is most common among company outlets in Japan. Products for purchase by customers are kept at the studio for use in a tailored style treatment based on skin-type tests and consultation. The relaxing Bali-style atmosphere is also well recieved.